How to configure an Actiontec DSL modem for Skynet's DSL
PPPoA Dynamic IP
Overview:
Please follow the instructions that came with your modem regarding connecting the cables, and placing filters on the needed telephone outlets. Note: do not place a filter before the DSL modem. This will filter out the DSL signal.
A basic wire topology will looks similar to the following;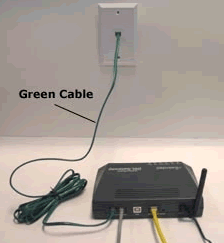 NOTE: the Green cable should be plugged into the port labeled LINE, not phone.
Basic Configuration:
To configure your modem please connect the yellow Ethernet cord from your network card to the Actiontec. The Ethernet light on the modem should go solid green.
Open Internet Explorer
Select File then Open.
In the Open box enter 192.168.0.1 then OK
This should bring up the main menu or your DSL modem
If your web browser can't open the web page http://192.168.0.1 check your computer's network configuration and make sure that it is set to "obtain an IP address automatically." Then reboot your computer and try again.
Select Setup / Configuration --- then Begin Basic Setup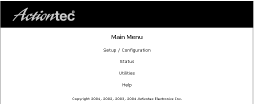 Click Next until the you receive the screen below;
On this screen please make sure you select the following settings
Are you a MSN user? --- No
PPPoA and PPP AutoConnect should be checked
Locate your paperwork and supply your Username and Password. If you do not have this information please call us.
Select Next and then Save and Restart
A properly configured modem will have the following lights.
The Power Light flashes rapidly while the Modem restarts, then it will glows steady green.

When the modem is operational the Internet and DSL lights will glow green.

Note: it does take ~30 seconds for the modem to reboot and obtain a DSL signal.